Scat Jeans Story - Extreme UpClose Sunday Morning Pee In Fishnet Stockings with MissAnja  [MPEG-4]
Tags:
scat solo
defecation
scatology
poop
shit
kaviar scat
pooping girls
shitting girls
shitting ass
scat girls
poop videos
amateurs scat
dirty anal
scat porn
MissAnja
HD
2019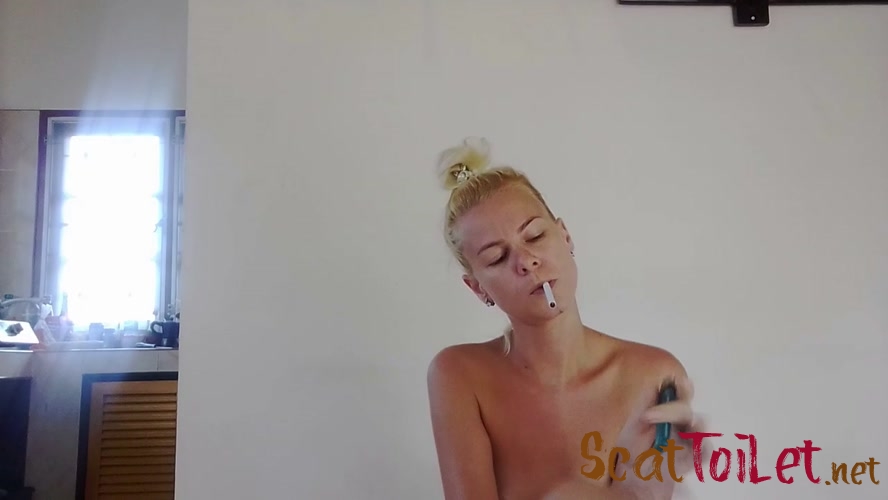 Scat Jeans Story
I wear my fave black short jeans in video. I tell you some short story of this pants. I worn 4 years this sexy short and I guess it's time to filling with my hot poo and pee. So in one word Destroy them ? I tease you for sure then pull it on half way,show you still clear asshole close up. I know how bad you wanna see my scat filled jeans and it's turn you on when you think about it, don't you? Standing position backward to camera I show you my jeans covered ass, start peeing first soak in my yellow nectar this pants. Then I push my poo out so hard on feels it's a pretty hard shit this time. I squeeze my short many times during poop just making a big mess in it. Making very Shitty for you. I push out a big turd then I show you my ass, pretty round shit covered asshole. My poo is so stinky, I want you to take a deep breath, in my room it's such a stinky shit smell has. I Poop more when I pull my jeans on halfway then put it back on and sitting on the floor and smearing, squeezing my ass to my Shitty jeans. Standing up again and show you close poop filled, dirty,filthy stinky jeans. After then I push it inside out and make a big Smear on my ass during I give you some JOI and encourage you to cum over on my shit covered bum. I know how bad you want stroke that hard dick of yours to my bum. Let's cum for me. ? AT the end I just put it on back this scat filled jeans and I say goodbye maybe next time you can own my dirty short, just if you want it for sure
Extreme UpClose Sunday Morning Pee In Fishnet Stockings
I wear only black fishnet stockings in the video nothing more. After getting up i didn't pee because I was just wanted to show you how much I pee when I wake up, so just held it 1,50 or 2 hrs but I thought many times I wet myself. In the videos I tease you at start and tell you how i'm feeling myself. Really had to pee. Show up my sexy naked body tease you with sexy moves and then take the camera extremely close to my pussy and start to peeing. Camera got wet ? but in POV style I just hold it and showing a great view to my kitty. I pee a lot and it's looks great. Then I show the mess around me on the floor
Worship, Sniff, Kiss, Lick My Monster Poo with Heels On
I wear red silky robe and high heels on. Tease you with show my ass and long legs. I don't wear panty on. Do you like my pussy? Would you like to taste me? Well ask you did you ever think about that a sexy lady knocking on your door and you open it then she tell you need to poop so much for her. Will you let her inside in your house and let her poo on your floor? Just imagine how sexy and hot should be when a lady asking your help then your dream come true and able to watch her poo. So in the video I smoke a cigarette and spreading my legs with heels on. Admire my naked and tight asshole. I know you're craving to see me Shitting. But first sniffs my holes, take a deep sniff of my unwashed arse hole What a great smells of it. Start to Pooping with my legs up. Nice, long monster poo. I didn't expect this huge shit. First hard snake coming out then soft poo.. When finished holding my big loads and show you how massive. I could say heavy too. So I just tell you because I'm the stranger who's knocked on your door worship my poo by sniffing, many times, licking, kissing and holding it. We can worship together this huge shit. Are you in? I want you to come closer and do the same as I do. I show you then you can copy me.. Don"t be shy be a nasty boy. I don't bite ? I worship over few min and you're doing well too. Then I just slide my finger in asshole just for fun, this time not for orgasm.And you can take a pleasure in my swollen shit covered arse hole. Sexy video, with Monster shit, lots of sniff and kiss to my poo. Smells amazing how do you think?
00:46:29 | 1.34 GB | MPEG-4 | HD
Dear visitor, you went to the site as unregistered user.
We encourage you to
register
or enter the site under your name.