ANIMAL INSTINKS (IMANI VS STEPHANIE) FEATURING HELGA [MPEG-4]
Tags:
scatting domination
femdom scat
shitting
toilet slavery
defecation
scat swallow
shitting porn
poop smear
scat porn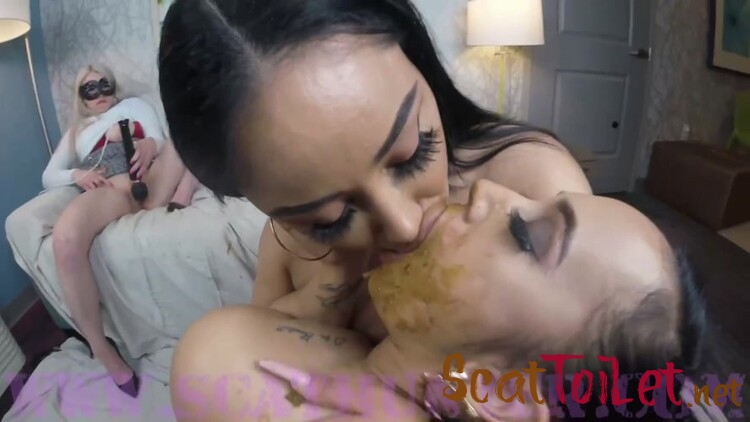 Welcome! Hi Hey Hello! I am soooooooo happy to say that you the fans have kept this thing alive and found a way for a studio like this to continue operating in spite of it's challenges! This movie and every movie moving forward will be produced and live on because of the strength in the scat community! Pat yourself on the back here before your hand is too tired to pat anything hehehe This movie literally has everything I have ever dreamed a scat movie should be! I would like to say I absolutely loved how much shit and scat there was in this film it was just never ending it seemed like haha! What a movie! You all wanted more shit well you got it and some haha! All of the girls really shit there brains out! Helga shitting at the beginning to me was so incredibly hot! Especially because I was informed that Helga would only be conducting an interview. I had no clue that she was going to surprise the girls with a large hefty load of her pretty brown scat! So needless to say when she bent over and began releasing that monster log I immediately turned on my vibrator lol Helga is so effing hot like I just cannot understand where he gets these amazing women from! (Well he did find me too lol and I'm quite amazing as well! hehe) Anyway watching them chow down on Helgas fat load literally made me cum so hard! And then watching how they ate every last drop of her shit?! I mean they didn't waste a drop! I was so blown away. All of it was consumed. Then Imani holds the plate up and says were out of scat! O man at that point I just knew this was gonna be such a great movie! These just keep getting better and better and better! Just when you think they cant possibly get better, Scathunter produces another masterpiece! The way that Imani was swallowing in this movie was insane! By the way I noticed Imani has a new look and wow she is BEAUTIFUL! Im impressed by her. Her ass is now ridiculously large, and I must admit I am a jelly haha I have a huge ass but nothing compared to hers! Stephanie was a powerhouse in this movie as well. The way that the two of them swapped and shared scat together and genuinely enjoyed it seriously had me soooooo horny it was alarming lol There was a part where Stephanie was slurping up scat and Imanis vomit from the floor that had me so turned on by her submissiveness! Especially when Imani was cumming and she was drinking her squirt, that was so hot. I wish I could have traded places with her and been the one soaking up that yummy cum. 100 out of 10. I had to watch this movie twice just for it to sink in, and I am probably going to watch it again tomorrow as well hehe. For all of you who pre ordered just remember you made this happen! And you got it at half price. Just keep in mind we will be doing every movie this way moving forward so you will always have the chance to get in early. Thank you all again for your continued support and we really hope you enjoy this one!
00:23:48 | 1.69 GB | MPEG-4 | FullHD
*2 068
*25-04-2022, 21:25
Dear visitor, you went to the site as unregistered user.
We encourage you to
register
or enter the site under your name.