Saliva Vomit Snot Swallow All Toilet Bowl with Natalia Kapretti [MPEG-4]
Tags:
scatting domination
femdom scat
shitting
toilet slavery
defecation
scat swallow
shitting porn
poop smear
scat porn
Natalia Kapretti
FullHD
2020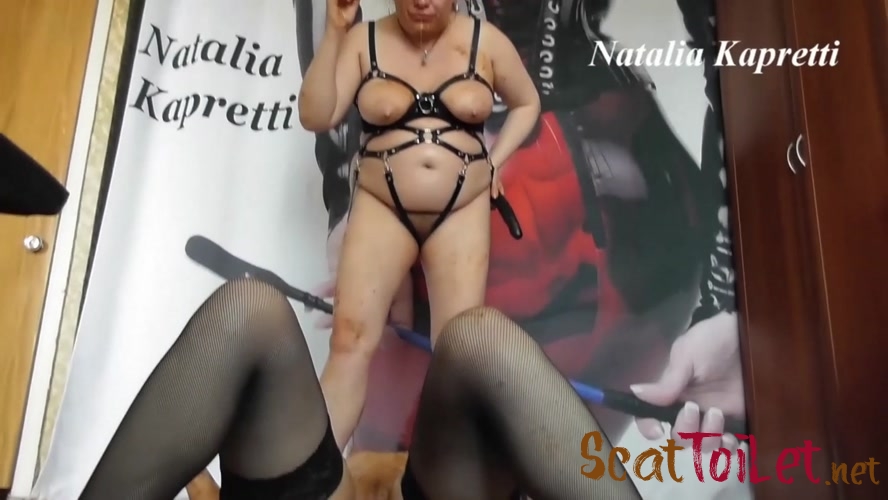 Saliva Vomit Snot Swallow All Toilet Bowl with Natalia Kapretti
Drinking vomit is the most difficult thing for my shit eater. But never mind, today we are having fun and having a good time. Fresh shit was fed and collected shit was fed, it's time to drink vomit. And so that the toilet does not shirk and does not close his mouth, I put dilator on it. Today, all the waste from our bodies goes only into the mouth of this shit eater. Lift your head and catch my vomit, swallow, I said swallow. I'll give you saliva and snot swallow it all, I'll teach you to drink my vomit you ungrateful toilet bowl
Minet Sweeter And Tastier With Shit with Natalia Kapretti
Sweet, sweet shit. It becomes even sweeter and tastier if you do blowjob with him. I like have fun time to time like that. I have dirty orgy with my slave girls or have dirty sex with my slave husband. One of my favorites is fuck him in the ass full of shit with my fist, get smeared in shit and give blowjob. I get so excited at such moments, I burn all over and cum, violently, a lot 1. My sweet minet and fisting with shit I enjoy being depraved and dirty, I liked fucking a slave's dirty ass full of shit and being smeared in the shit, sucking dirty dick in shit. I was so excited, volcano of passion burned in me, rolling hot waves. Dirty cock covered in shit invaded my thirsty mouth deeply and in my throat. I couldn't stop, I sucked and masturbated, all dirty, all covered in shit, squirt and cum, over and over again 2. Dirty fisting and oral in 69 position Such depraved, such a beautiful pose 69. I will fuck slave in dirty ass with shit instead of lube, and he will lick me at the same time. But I have prepared surprise for him, I will shit on him when he is under me and he will continue satisfy me, lick my pussy and dirty ass. And I will fuck him with my fist, with shit and of course suck his cock sticking out in excitement. This proves that he likes it, he likes to be under me in the shit, he has already become toilet fetishist
Toilet Slut For Shit Vomit And Dirty Games with Natalia Kapretti
Your pussy is itching, your mouth is begging for cock. You're nymphomaniac, toilet slut. Begget, suck the dick, lick his ass, now we will take turns shitting on you. Lick ass, put your mouth on it now the shit will fall down in there. Yes, feel all the delights of shit. Suck dick in shit, I want you to swallow cum with shit. That's it, shitty mix of protein and stinky waste, swallow. Now it's my turn to shit on you and throw up, I want play with you, dirty slut. Yes, now you're covered in shit, please your Mistress, soon you'll have shower with vomit. You are my, my fucking dirty slut 1. Dirty slut asks for dick and shit My slave girl is fucking bitch. She becomes dirty nymphomaniac, she constantly wants fuck, wants dick and shit. Recently, she seduced her friend for dirty sex in threesome with her husband, now she lies on the couch, fucks herself in the ass with strap-on and begs to suck my husband's cock. Well, let's satisfy her desire, fuck her in the mouth, deep in the throat, until she vomits, and then we'll shit in her insatiable toilet mouth. With what passion she sucks cock, takes it deep down her throat, she is real slut and toilet bowl. Sucked dick, now open your mouth, my husband will shit in it. Yes, that's it, shit goes in your toilet mouth, enjoy the taste of it, eat it. Now lick that dirty ass full of shit, stick your tongue in it. You're so dirty, you dirty toilet whore 2. You my toilet slut for shit and vomit My dirty toilet slave girl, my slut, today already had enough of shit, eat shit, sucked dirty cock in shit. Now I want to play with her, take a shit, smear her in shit and fuck her with double-sided dildo. It is such bliss shit on young girl, when she enjoys your shit, catches it, smears it on her body, tastes it, eat. Well, slut, insert the second end of the dildo in your ass, now you will give me pleasure. Yes, it's just unforgettable, it's such high, fucking in shit. Now let's get to the water treatment, now I'm going to throw up on you. I marked you again today, toilet bitch, took shit and puking up on you. You are my, my fucking dirty slut
Puke If You Don't Like My Shit with Natalia Kapretti
Today I have a great mood and I will have fun from the heart. Lick my pussy, I want to get hot, excited and cum in your mouth. Then I'll shove strap-on deeper your mouth. Yes, puke, today you can, I allow, but for this I will give you good whipping on pussy. Oh, what swollen, red labia, I like it so much. Now I want fisting, stick your hand up my ass, fuck me. Yes, that's right, it's such delight, I even shit myself. Put all my shit in your mouth, chew it until it turns to mush. What, you don't like taste, I'll shove shit in your mouth, chew it, chew more, puke in my hands, I'll teach you eat shit and your vomit
Dirty Games With Hot Soft Smelly Shit with Natalia Kapretti
I like dirty games, I like how smell shit, love feel his sticky touch. And I love fisting my husband. These two fetishes are perfectly matched and I am very happy to fuck him with my fist in his dirty fucking ass. Shit oozes out of his ass, spills out. It's so hot, soft, smelly. It is such bliss to feel it in my hands, on my skin, on my body. It's so inviting me, so exciting 1. Dirty fisting with shit, I like it You didn't shit tonight. Today I will fisting you without lubrication. Shitting, Push shit. Oh how sweet, fragrant, soft shit. What a delicious smell, I really like it. And you bitch, dont pucker up! Lie and endure. You my slave, obey and pleaser your Mistress. Here is you bitch fist in the ass. So much shit, how easy hand slides inside, wonderful, great. Now I will constantly use shit instead of lubricant for fisting. Yeah, that's it, I'm gonna shove my hand up your ass even deeper. Push, piss, I see you're starting to like it too. 2. Want more shit, I'm covered in it I try to habituate my husband to shit and use all sorts of tricks for this. Come to me dear, give me your ass. How cozy your ass is and I can feel that warm shit inside of you. Come on, shitting on me, don't be shy. Yeah, it's so nice, warm, soft, smelly shit all over my body. More, shit more, I want more shit. How I feel good, I'm gonna cum. I'm covered in shit. I'll go get toilet slave out of the bathroom, let him lick everything off me
The Use Of My Live Toilet In The Woods with Natalia Kapretti
I love to walk in nature, I caught my Toilet shit eater in the woods in the Park, and today I decided to remind him who he is, how he got to me. The walk was a success, it was easy and I had fun, fed my live Toilet delicious shit in broad daylight near a crowded alley
01:21:34 | 5.78 GB | MPEG-4 | FullHD
Dear visitor, you went to the site as unregistered user.
We encourage you to
register
or enter the site under your name.