Fucking Machine, Dirty Scat Feeding with Goddess Zaleya [MPEG-4]
Tags:
Farting
Groups
Couples
Panty
Jean Pooping
Poop Videos
Scat
Toilet Slavery
TOILETSLAVE4ALL
Goddess Zaleya
FullHD
2020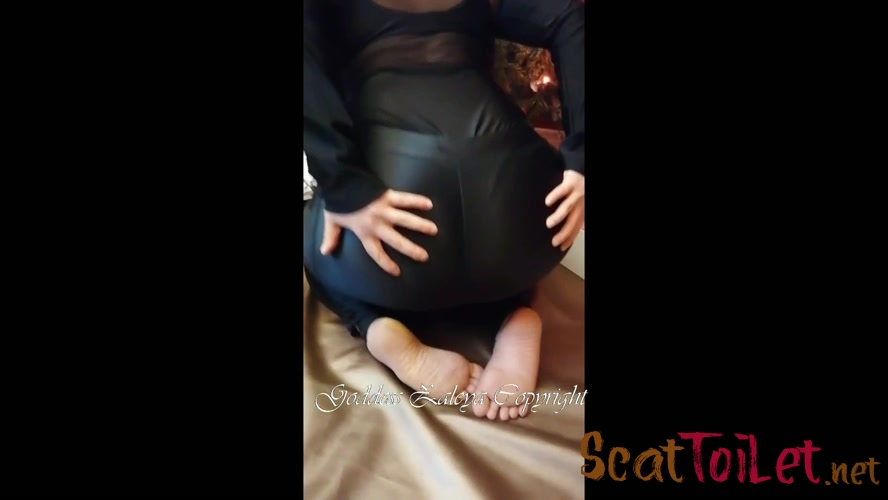 Goddess Zaleya Dirty Play with Christmas Tree
Description: Goddess Zaleya takes revenge on Santa and farts non stop to destroy Christmas Tree.
While Mistress checks the gift, the farts explosions started and didn't seem to stop. She removed every Christmas decoration and did a fart for each one.
Clip is recorded with extremely close ups to see her gorgeous big ass doing wet farts.
The close up is so close that you can imagine you have your nose in her ass, sniffing the wet farts!
After the farting was done, Goddess Zaleya went to the gym. When she came back, she felt desperate and did a big diarrhea at the Christmas tree to make it more stinky.
Would you be her farting slave inhalor and her slave that cleans her ass, instead of hygienic paper?
Goddess Zaleya - Fucking Machine, Dirty Scat Feeding
Description: Goddess Zaleya is more beautiful than never, recording the clip originally in 4k.
Mistress is dressed in black tight leather outfit.
First minutes are with Goddess Zaleya teasing her fans telling them to look at her curvy body and her round ass in leather. Her beauty and power makes you feel so horny and desperate!
She will give you a chance, your unique chance : to worship her worn leather leggings !
They are well worn ! Goddess has whipped many slaves like you, wearing this leggings, She has humiliated many men like you, and She got horny and wet in this pants. She even had several times an orgasm in this leggings . and She never washed them!
Imagine, how they smell! They are so impregnated with Goddess' body perfume , Her orgasm juices, her ass' smell and sweat .
The second scene is together with the slave that is coerced to smell Mistress' leggings and told that he will have the unique opportunity to touch with his tongue SUPREME GODDESS' PUSSY. Actually he will not. The slut is humiliated to lick only a plastic pussy and then to fuck her, with the help of the fucking machine. The slave is now aware of his inferiority and the power of his Queen ! This is only real thing he will get.
The 3rd scene is with beautiful Goddess Zaleya in an INTENSE KAVIAR FEEDING and smearing.Her slut is teached to taste and eat her delicious brown, with Goddess' help and the rest of the kaviar smeared on his face, like a luxury face treatment-mask.
Farting and Shitting in Red Leather 4k
Description: First clip recorded in 4k.
You want this. You need this. You want my bubbly farts and my wet farts. And my chocolate after the farts. You know you're an addicted toilet slut.
Lets see how many farts I can do.. Can I break my record of 30? All types of positions and wrecking my asshole by drinking lots of milk and eating beans ! I'm dressed in red leather, very exciting, I tried to read a book when all started like an EXPLOSION. Lets fart away! I fart sitting down, legs up, on side, ass in your face, on knees and more! Loud farts become ripping out, Some bubbly some wet, and guess what? They smell so bad! The whole room is filled with my stinky farts, and you cant get enough! I talk to you all through out the videos describing my farts while having lots of fun!
What would you do to be right here under my ass? Smelling all of my juicy farts first hand? You would be lucky! Ill just sit on your face and dick and fart away. I cant believe how many farts I was able to do in this video, loud, long and huge ones, one after the other!
Clip contains extreme close ups. You might become very, but very aroused and you will cum hard. Don't say I didn't warn you !
Come jerk to me farting for you! Fart fetish is my number 1 jam.
Buy this video if you are a fan, it will blow your mind
Goddess Zaleya Leather Pants Farting and Shitting
Description: Another epic farting/shitting clip with Goddess Zaleya ! Goddess were relaxing in her hotel room and she feels to fart. You can hear her noisy farts in her leather pants while she doing business on her phone. Goddess calls her toilet slave and calls him in a hurry. She needs a mouth to fart in as soon as possible. After her slave arrives, Goddess orders him to lay on her bed and keep his mouth open. She release nice farts right into his mouth and slae must inhale everything. At the end, Goddess farts in a bottle and offers him as a reward. after th "easy" part, the toilet slavery will follow : slave was told to lay ni the shower and keep his mouth open because Goddess needs to pee. She release a nice torent of piss right into his open mouth and orders him to swallow EVERYTHING. Then she allowed him to wash her pussy with his clean tongue. After the toilet was gone, Goddess shitting in her toilet for her fans.
00:13:11 | 392 MB | MPEG-4 | FullHD
*1 314
*18-03-2020, 21:14
Dear visitor, you went to the site as unregistered user.
We encourage you to
register
or enter the site under your name.