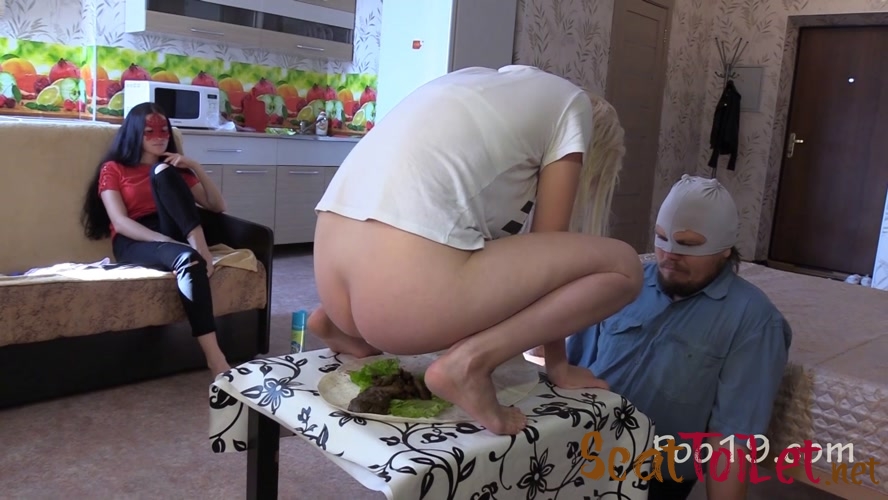 Shawarma stuffed with girls' shit. Today, while I was at work, I received a call from Mrs. Christina inviting me to come for lunch. She and Mrs. Victoria decided to cook shawarma and treat me with it. I was very pleased with this invitation. My lunch break lasts one hour, and I had the time to dine with the girls in their apartment. However, I did not know what awaited me. What happened next was a surprise to me. When I arrived, the Mistresses met me by allowing me to enjoy the smell of their shoes, which were soaked with sweat from their foots. I am a fetishist and I really like this smell. And after I also sniffed the socks of the girls, I was completely delighted. However, I was waiting for dinner. On the table lay pita bread. The girls had put greens on it, it remains to add meat filling. But there was no meat, and this was a surprise. The girls decided to make the filling from the food that they ate and which was digested in their stomachs. They put fragrant shit on top of the greens. At first, Mrs. Christina did it. Her "filling" was like a cream with a very pungent odor. After her, Mrs. Victoria for a very long time was pooping by fragrant chocolate sausages. The filling was ready. I had folded pita bread like an envelope, and the shawarma became completely ready for use. I had to eat this food and it has never been so difficult for me to do it. However, I had to deal with it. After all, I am the toilet slave of these two beautiful girls. And I have to fulfill any whim that comes to their mind.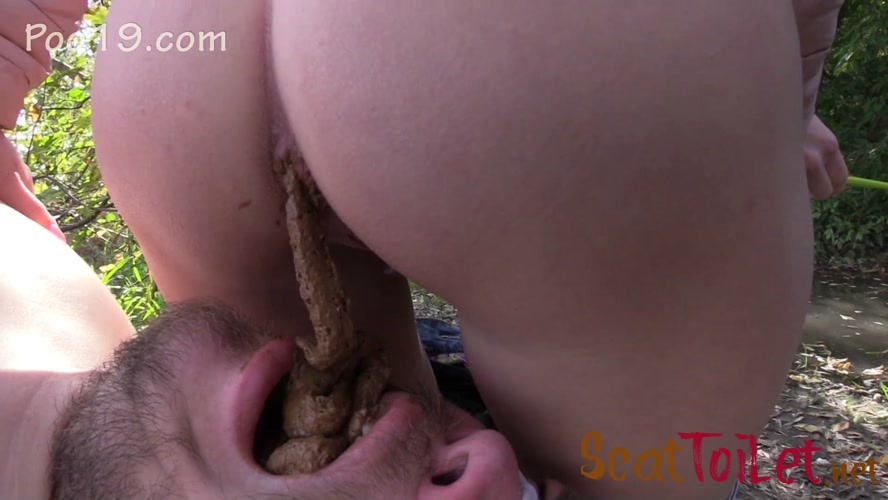 My mouth is a chic female toilet! Today Mrs. Victoria and Christina took me for a walk along the river embankment.Girls have a very big fantasy. They can arrange for themselves entertainment with a slave in a variety of situations. Walking a few days ago, they noticed a fallen tree. The first thing they thought about was why not use this tree for training and punishment of the slave. Today, the girls decided to take this opportunity. As a result, I#m already lying on a tree, and Christina and Victoria are hitting me on the back with a whip. Mistresses like to flog me. Very often they do this for no reason, simply because they like the red stripes on my back. I also had to serve the girls as a toilet on a tree, for this purpose I had to lie so that my head was below and my legs above. To lie with myback, which was flogged by a whip, was painful on a hard tree. Therefore, I had to endure. The girls wanted me to eat every slice of their shit so that nothing fell to the ground, therefore, they were shitting by small portions. It was hardto swallow because my stomach was above my mouth. Swallowing Christina's shit was easier because her shit was soft. Victoria was poopping by long solid poops that did not fit in my mouth and fell to the ground. Therefore, part of her shithad to be eaten with stuck leaves. However, I did my job. The girls were satisfied.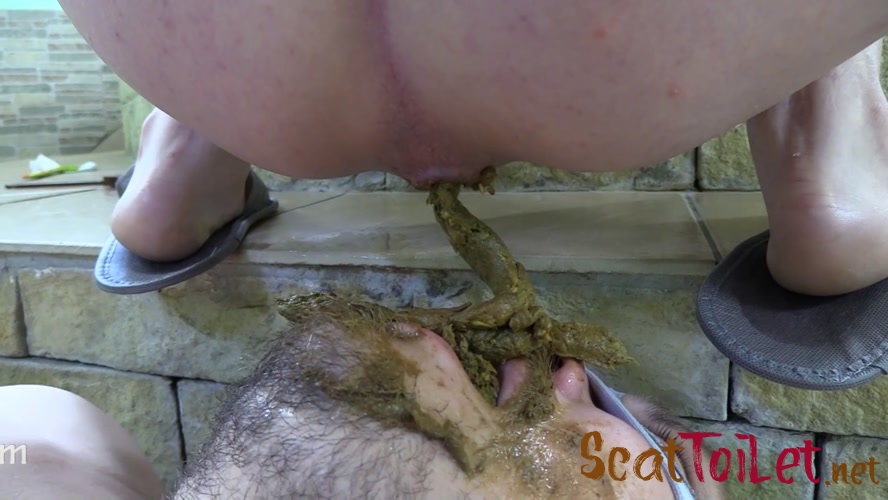 Female defecation into slave's mouth after bathing. Cold fall. In inclement and rainy weather, there is nothing more pleasant than taking a hot bath and relaxing. Therefore, Mrs. Christina and Victoria decided to go to the sauna to soak up the warm steam and swim in the pool. To get more pleasure, the girls took with them two slaves – me and Bernar. We had to serve the girls, fulfill all their whims, entertain them and provide toilet services. Mistresses don't treat slaves as men, so they don't scruple to completely undress and conduct female conversations. I really like to serve girls in the sauna, because I have the opportunity to enjoy the view of beautiful female bodies, the view of their beautiful breasts and ass. However, at the same time, I have no right to all this as a man. Last evening, Christina and Victoria had a very good dinner, and in the morning they deliberately did not go to the toilet. They decided that they would poop in the sauna, into the mouth of a slave. Finally, this moment has come. Mistresses decided to use the toilet. I had laid down near the pool, and Christina's ass hung over my head. I drank her urine and opened my mouth to receive her shit. I did not even have time to blink when my mouth was filled to the brim with the bitter and stinky porridge from her ass. Swallowing this porridge was very difficult. Bernar also tasted this because he was licking Christina's ass after she filled my mouth. Then came the turn of Mistress Victoria. At first, she wetted whole my face with her urine. Then suddenly she farted with a loud sound. A warm breeze from her anus struck my nose, and I inhaled this divine smell. Very slowly her anus began to open and thick sausage of her shit began to come into my mouth. And then another .. And yet .. Victoria pooped for a very long time, but my mouth was full as a result. Victoria's shit was sweet, but it was hard to eat this, because it was solid. Mistresses were pleased with me and Bernar. They decided that they would always take slaves with them to the sauna.