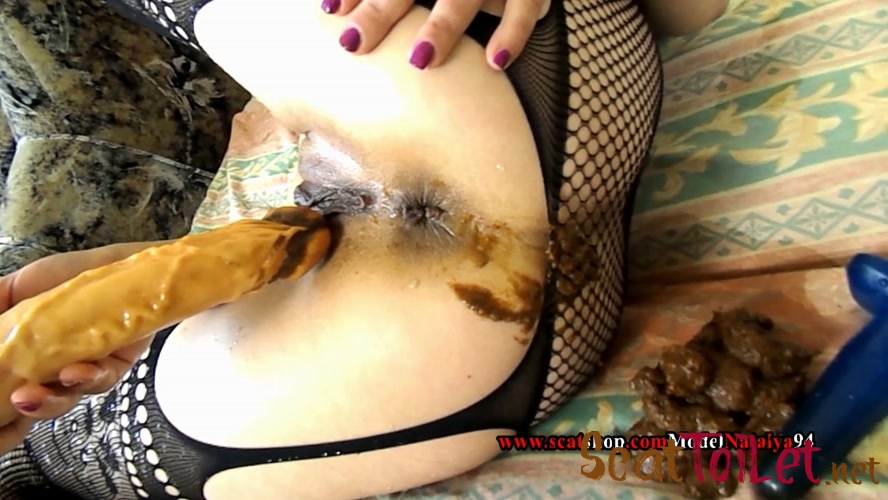 The whole day I was home alone and wanted sex, I lay down on the bed and took two rubber toys anal plug and rubber cock, I first took it in her mouth and started to suck the rubber cock, that I love very much, a bit of tinkering with the rubber cock I inserted the rubber cock into her pussy and started to fuck my pussy. Yeah, but this is not enough for me I'm a real freak love most depraved things. I inserted myself in the ass anal plug and fuck the rubber cock and started to fuck her like a dirty whore. Yes I'm a whore and I'm not ashamed of it. After playing with the ass and cunt I pulled out the butt plug and began to piss on Yes, that's the Golden rain fucking such a strong stream came out of me, but I want to have sex and I fuck myself in the cunt. At the time when I came out a big stream of urine I relaxed my anus and started to fuck shit and shit on the bed when I poop I put a rubber dick in anal and started to fuck yourself in the ass like a dirty whore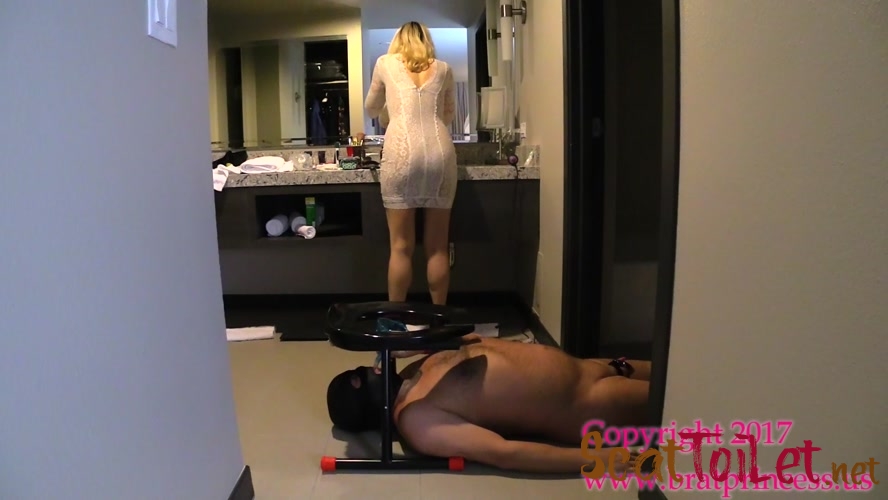 Lola – Practices Standing to Pee with Human Toilet
Lola has brought andy, her human toilet, to a convention with her. This clip chronicles a day in andy's life while at the convention. Lola has decided that she wants to practice standing to pee. She's a girl, so standing to pee is a little tricky. Andy has to wear a gag that makes his face into a urinal. Lola wants andy to be a human urinal for not just her, but for all her girlfriends. First, Lola tries standing to pee with a funnel. The funnel works ok, but it's a little awkward. Lola tilts andy's head back and forces him to drink all the pee that has collected in his gag. She'll try again in a few hours with a different technique. Lola goes out to dinner while andy stands his post in the bathroom. She comes back to the hotel and practices standing to pee again. This time, instead of using the funnel, she straddles the gag. This proves to be a great technique! Lola changes her outfit and goes out to have drinks with some people she's met at the convention. She comes back to the hotel room hours later after having a few. She's abandoned the idea of standing to pee for the moment and instead uses a toilet chair. She pees a lot and the funnel ensures that every drop goes straight into andy. Lola takes off her dress. It's ok for her to be naked in a room with andy because he is kept in strict chastity at all times. Lola lies down and falls asleep. Andy lays on the cold ground in his toilet position. Lola sleeps comfortably. Andy does not. (12:35 long)
Lola – Weekend Full Toilet Slave (Day 1 of 3) (Complete)
This clip shows both the piss and shit segments from two different angles. Both angles are shown consecutively. After the two camera angles are shown consecutively, you have a stacked view where the angles are shown in a picture in picture window. (25:11 long)
When the slave arrived for a weekend visit, I took advantage of using it as my full toilet almost immediately. I took measures to restrain the slave tightly, as I had no idea what to expect from it. I used rope on the limbs and placed the head between two cinder blocks. This way, I knew it could not turn its head or try to fight the training. I emptied my bladder into the slave first. When my bladder was empty, I shit. When I shit, it was a lot. I was a little impressed with myself. He kept it all in his mouth at first and wouldn't swallow. His mouth got very full because I wouldn't stop going. Some of it got on his face. Since he couldn't use his hands, I used mine to guide the errant bit into his mouth for him. It took a little bit of coaxing to get all of it down into him. The toilet swallowed it all. It was rewarded with some nice spit. The spit really helped wash it down, so I could be sure that all of it was going into him. That gave me the idea that on day 2, I would empty my bladder into a separate container and later use the piss to use to wash down the shit. I think it's a really generous idea that will help the slave with the task of swallowing everything for me.
Lola – Weekend Full Toilet Slave (Day 2 of 3) (Complete)
1080 HD This clip is the second in the series, "Weekend Full Toilet Slave." In this clip, the slave is used for both piss and shit. The piss is shown from two camera angles. Both Angles are shown consecutively, then in a stacked picture in picture window. The shit is shown from three camera angles: front, back and going into the slave from above. The three camera angles are also shown consecutively, then in a split screen window. The shit section of this clip includes some written narration.
On day two, I decided to pee into a container before shitting into the slave. I had noticed on day one that it was having some difficulty swallowing all of it. I don't like it when it my shit sticks to the teeth. It should ALL go down. So, I decided to pee into a container first and then later use the pee to wash everything into the toilet slave. I shit and again, just like the first day, it was a lot. The toilet kept the shit in its mouth. It waits until I've finished before it swallows. I scooped all the errant bits and coaxed it all into the belly of my septic system. The toilet had a bit of retching this time. It was a pretty big load, so I understood the difficulty, but did not let the toilet give up. Eventually, it all went down. I made it suck the shit off my fingers before allowing it the piss it so desperately wanted. It's funny, I thought the piss would help the slave wash everything down, but interestingly it caused more retching. Of course, I didn't stop pouring. He still had to finish it all. The toilet was very good, eventually got it all down, and did not back up. I was pleased. I wondered, though, maybe he was having difficulty with the pee because there just wasn't enough of it. The toilet probably just needs MORE pee to help wash things down. I decided to give Kendall a call to see if she'd join me for day three… (25:29 long)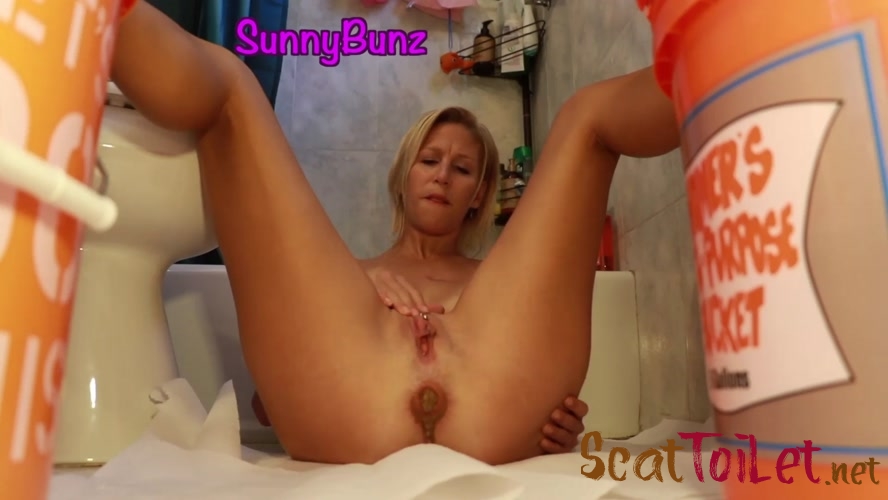 Full HD (1080p/60fps) In this video, I am sitting on the floor, leaning back, propped up a bit on my elbow, legs spread wide, up in the air, and my face is framed between my legs. I start by teasing my clit a bit, and then teasing you, letting my load push out against my asshole and holding it there for a while, and then holding it back in. I then groundhog/let my asshole open and show you my shit, then closing it back again, several times. All the while dirty talking to you. Finally, I let it go and slowly push it all out for you, moaning. I keep pushing out afterward, and play with myself for a bit, showing you how wet my pussy is.